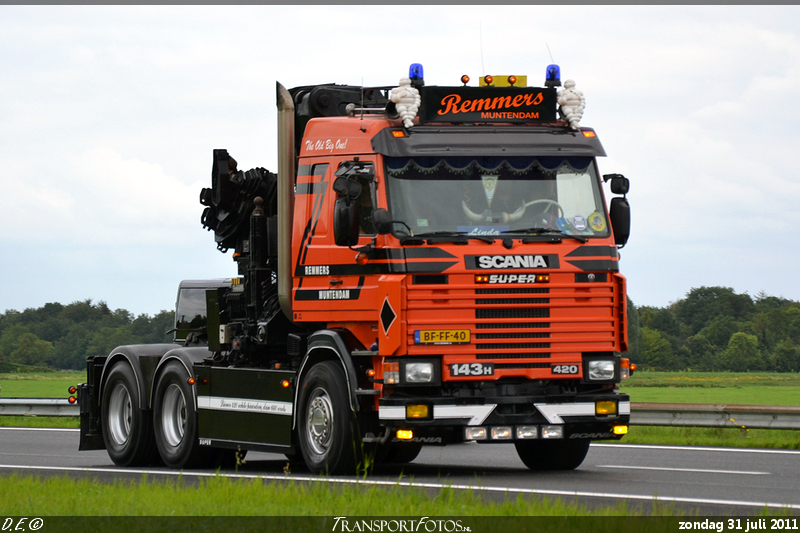 Posts

280

Joined

Last visited

Days Won

2
About NewTon

Profile Information
Gender
Location
Preferred Trucks
American Garage Location

California: San Francisco

EU Garage Location
Witam, mam kilka foteczek dla was. Pozdrawiam.

2

Szczecin - Nijmegen (Drewniane płotki) Na tym strzale razem z Karolem i Krychą mieliśmy ładunek drewnianych płotków do marketu w Holandii. Rano o 6:00 z Karolem załadowaliśmy się po czym na granicy zrobiliśmy 15' pauzy i but w stronę ringu gdzie na A2 miaj dojechać do nas Krycha od Świecka i zaczekaliśmy na niego na Borde-dzie.

1

Dni mijają kilometry nabijają.

1

Szczecin - Linkoping Wczoraj wyjechaliśmy z Karolem z marchewkami do Szwedzkiego Linkoping. Kilka fotek mojej scanii na bazie gdy się rozpakowywałem po powrocie z urlopu i czekałem na Karola. W scanii zostały pomalowane koła i dodane kołpaki. Po dojeździe Karolka na bazę, pogadaliśmy trochę, bo wiadomo jak się długo nie widzieli to trzeba było pogadać. Zjechaliśmy z Promu w Gedser, ponieważ jechaliśmy przez Rostock bo jest taniej niż w Świnoujściu. 15min wypłazowaliśmy szybko bo Karolowi zachciało się na dwójke i już szkoda było postoju to zrobiliśmy 15min gdyż zostało nam jeszcze 1h jazdy. Po godzinie jazdy dokończyliśmy pauze, czyli musieliśmy zrobić jeszcze 30min żeby wyszło nam 45min. Po pauzie dalej ogień a tam zostało nam tylko 2h godziny drogi, także po rozładunku jeszcze starczy żeby się załadować. Dzięki ode mnie na dziś to tyle! PS. Zatrudnimy 2 pełnoletnich kierowców, wymagamy średniej aktywności i trochę większej rozmowności.

1

Powitać wszystkich naszych czytelników! Tydzień temu do firmy wpłynęły zaległe pieniądze od norwegów, dzięki temu nasze staruszki poczuły trochę piniądza.

3

Witajcie! dawno nic nie wrzucałem, dzisiaj nadszedł ten czas gdzie znalazł się czas wolny.

2

Witam! dziś do scanii weszły nowe felgi i zamalowaliśmy plastiki.

2

Witamy, po waszej długiej przerwie świątecznej forum aktywowano Z Marcinem na Brukseli ładujemy wołowinę na Kraków.

3

Witam, jak widać koła toczą się u nas nadal i nic nas nie zatrzymuje, Rosja stoi my robimy zachód i północ.

2

Moim zdaniem wystarczy tylko godzina.

Cześć! jak wiadomo standardowo i nasza firma na oddział w Kalifornii. Pierwsze rozjazdy po stanach wyglądają obiecująco. Na razie posiadamy 6 ciągników w tym 3/4 floty to Kenworthy zdecydowanie lepsze i trwalsze od Peterbilta. Firmowe paski oczywiście już poszły na cześć aut. Aktualnie nie prowadzimy rekrutacji w tym oddziale, wszystko wyjdzie w swoim czasie.

4

Gdyby nie multi to by nikt tego nie kupił.

Czy do niedzieli jest szansa już na wspólną gre?

Fajnie że jest opcja gry wieloosobowe w menu.